Julia and Andy would like to offer you a warm welcome to Denholme Gate Honey, producers of  Pure Yorkshire Honey
Denholme Gate Honey has been established 20 years and during this period has gone from strength to strength.
Mike and Liz Joyce founded the business, it all started based on Mikes fascination with bees. His main role as a head teacher never deterred him from beekeeping; in fact over the years he continued to increase his bee stock to the extent that he is now a bee farmer. Liz was also a teacher, she made the decision to sell honey produced by Mike's bees and forged a new career for herself. She began by selling local Yorkshire honey to health food shops and small shops, the honey was at that point sold from a basket! The business grew and grew; the couple remained true to selling Yorkshire honey. Denholme Gate now supplies over 100 outlets, the brand recognised as being a quality honey.
Where do we come in? We, being Julia and Andy took over the retail side of the business in August 2015. I also left the teaching profession (must be something about teachers and bees!), although I do still keep my hand in with a few days' supply now and again. Following Liz's guidance, I now find my day consists of preparing, bottling and delivering honey. No more, a regular structure to the day, the honey is a true artisan product, being hand bottled and labelled. It continues to amaze me how popular the honey continues to be, our Yorkshire honey even has a loyal following in Lancashire and further afield such as Japan and Saudi Arabia!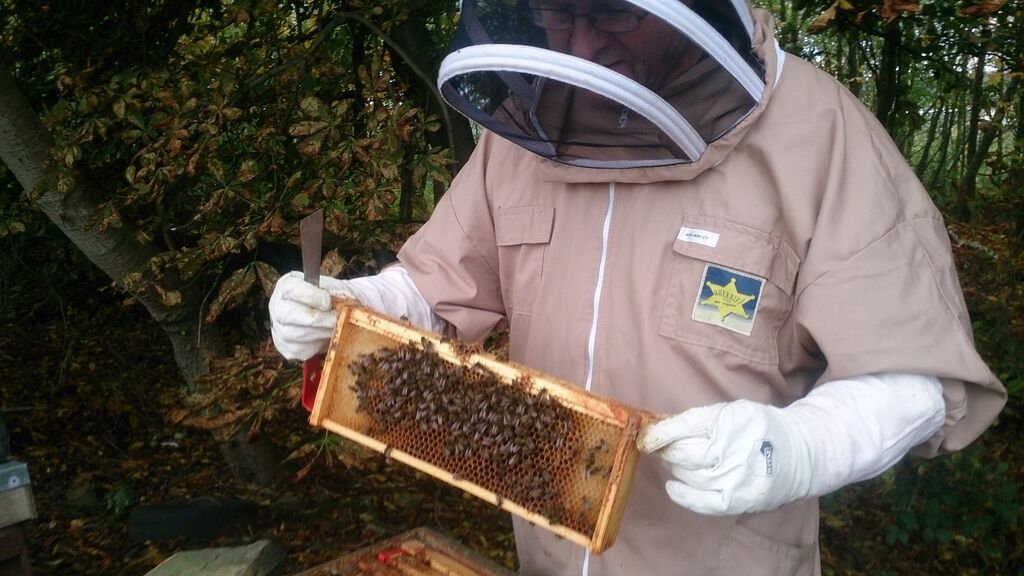 Mike continues to work with his bees and supplies honey to the business. I don't think he will ever stop; beekeeping is embedded in his life.
Andy and I have been working with Mike during the past two years to learn about the beekeeping side of the business. What a steep learning curve! But with Mikes experience and knowledge to call upon, we are now farming over forty of our own hives and are set to increase this number. The fascination of bees is addictive; there is something very calming when studying their behaviours on a warm summer's day! On the other hand, you have to be aware when the hive is not overly happy at being disturbed. Stings can abound!
Moving forward, we endeavour to offer the same high quality service to our customers. I believe we offer a unique service, in that we check the honey, and if it is crystallising on the shelf, we change it! Crystallisation is a naturally occurring process due to the honey being unpasteurised, the honey is absolutely fine to eat, however we prefer our customers to experience our Yorkshire Honey at its absolute best.
We are now located in Thornton, West Yorkshire (birth place of the Bronte children) at Hill Top Farm, situated at 1000 feet above sea level.