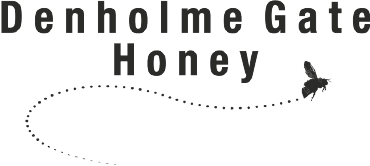 TERMS & CONDITIONS 2017
PLEASE READ THESE TERMS AND CONDITIONS OF SALE CAREFULLY BEFORE MAKING YOUR DECISION TO PURCHASE.
GENERAL
www.denholmegatehoney.co.uk  is intended only for consumers wishing to order
The terms and conditions under which the Products are offered for sale on this Website are set out below. By placing an order on the Website you accept and agree to be bound by these terms and conditions. Denholme Gate Honey Ltd of Hill Top Farm, Hill Top Road, Thornton, Bradford, BD13 3QZ, VAT number 220183455, company number 10306391 reserves the right to change these terms and conditions at any time without prior notice. Such change however will have no effect on orders that were submitted before posting of such revised terms and conditions on this Website.
PLACING YOUR ORDER
2.1. To place an Order you must be 18 years of age or over, be accessible by telephone and have a valid email address.
2.2. You may place an order by:
2.2.1. Filling in the order form on the Website after logging into or creating your personal account and clicking on the appropriate submission button;
2.3. By placing an order, you make an offer to us to purchase the Products you have selected on these terms and conditions. Denholme Gate Honey accepts the offer at our discretion and may reduce the number of Products we accept to deliver to you.
2.5. If we cannot accept your order, we will attempt to contact you by email or telephone or post.
2.6. Please note that the on-screen display of the colours, designs, products may differ from the actual appearance or size of products offered on the Website.
SUPPLY OF YOUR PRODUCTS
Subject to these terms and conditions, Denholme Gate Honey will supply to you the Products indicated on your order confirmation.
PRICES
4.1. All prices are in GBP. Prices shall be those prices published on this Website at the time you submit your order. The prices published on the Website are inclusive of VAT where applicable but may be exclusive of shipping costs, which are for your account. These costs will be calculated separately as applicable and specified on the order form and added to the total price of the order. The total price stated on the order form you submit shall be the total amount payable by you for the products including shipping.
4.2. If, by mistake, we have under priced a product, we will not be liable to supply that product to you at the stated price, provided that we notify you before we despatch the product to you. In those circumstances, we reserve the right to cancel your order. In the event we cancel your order, we will give you a full refund on any amount already paid for that product in accordance with our return and refund policy.
4.3. Delivery costs, where applicable, are payable by you as indicated on your order confirmation.
PAYING FOR YOUR PRODUCTS
5.1. You may pay for your Products by the methods of payment as may be displayed at the Website checkout.
5.2. You must pay in the currency as indicated on your invoice.
5.3. If you are paying by credit or debit card, then you must supply your credit or debit card details when you place your Order.  We will not supply the Products to you nor perform the services until your credit or debit card issuer has authorised the use of your card for payment of the Products ordered. If  Denholme Gate Honey does not receive such authorisation we shall inform you accordingly.
DELIVERY OF YOUR PRODUCTS (ADDRESSES IN THE UNITED KINGDOM, SPAIN, ITALY, FRANCE, GERMANY & THE NETHERLANDS)
6.1. Denholmegate Honey will deliver the Products to the delivery address you have specified in the order form and in accordance with the delivery option you have chosen. In the event you order various Products to be delivered to different addresses, you will need to submit a separate order form for each delivery address. Any delivery or shipment dates given by Denholme Gate Honey are best estimates only and Denholme Gate Honey shall not be liable for any loss, damage, costs or expenses for failure to deliver in accordance with the delivery or shipment dates given. In the event that any of the Products ordered are out of stock, this may mean the whole order is delayed. If so, an estimate of the delay will be given by e-mail or post but delivery shall in any case be made within thirty (30) days as of the date indicated on the order confirmation
6.2. Title to and risk of loss in your Products will pass to you on accepting the Products
EXCHANGES, RETURNS AND REFUNDS
Our returns/refund policy is in accordance with The Consumer Rights Act 2015, which outlines your rights to cancel your order.
7.1. You may return the Product to us and obtain a refund of the price of the returned Product provided that you contact us within fourteen (14) working days from the day after the goods are delivered. The product must be returned without damage. Should the tamper label be damaged, a refund cannot be provided.
Although you will have to pay the cost of returns, the refund will include the full value of both the product and the outbound shipping costs at a basic rate.
If a product is sold as part of a product combination (bundle) in which other products are offered for free or at a discount compared to their normal price, the bundled product must at our request be returned with the product purchased. Denholme Gate Honey reserves the right to raise an invoice in respect of any free or discounted bundles product not so returned.
7.1.1. If a Product was supplied in error, is incomplete or faulty and you believe that you are entitled to a replacement or repair in accordance with paragraph 9 below, please contact  Denholme Gate Honey between 09:00 and 17:00 Monday – Friday, excluding Public Holidays.
7.1.2. If you have received the ordered Product(s) and have simply changed your mind about purchasing it, you may return the Product(s) to us for a refund and provided:
You inform Denholmegate Honey within fourteen (14) working days from the day after the goods are delivered; and
You have proof of purchase
Please note that while the Product(s) remain in your possession you are under a duty to ensure that the Product(s) are kept safe and secure and in good condition.
WarrAnty
8.1. These terms and conditions set out the full extent of our obligations and liabilities in respect of the supply of the Products.
8.2. There are no warranties, conditions or other terms that are binding on Denholme Gate Honey except as governed by EU law.
8.3. Any warranty, condition or other term arising out of or in connection with the supply of Products and/or the provision of Services which might otherwise be implied into or incorporated in the contract by statute, common law, laws applicable in the country where you purchased the Products or Services or otherwise (including without limitation any implied term as to quality, fitness for purpose, reasonable care and skill) is hereby expressly excluded to the maximum extent permitted by law. In particular, we will not be responsible for ensuring that the Products are suitable for your purposes
LIABILITY www.denholmegatehoney.co.uk
9.1. These terms and conditions set out the full extent of our obligations and liabilities in respect of the supply of the Products (and performance of telephone support and warranty services) and the performance of any Services.
9.2. Save as set out at paragraph 9.3 below, there are no warranties, conditions or other terms that are binding on www.denholmegatehoney.co.uk regarding the supply of Products except as expressly stated in the contract.
9.4. Nothing in the contract shall limit or exclude our liability (i) for death or personal injury caused by our negligence or (ii) for fraud or (iii) any breach of the obligations implied by applicable compulsory national laws as to title or (iv) any liability which cannot be excluded by law.
9.5. SUBJECT TO CLAUSE 9.4 DENHOLMEGATE HONEY WILL NOT BE LIABLE UNDER THE CONTRACT FOR ANY LOSS OF INCOME, LOSS OF PROFITS, LOSS OF CONTRACTS, LOSS OF DATA OR FOR ANY INDIRECT OR CONSEQUENTIAL LOSS OR DAMAGE OF ANY KIND HOWSOEVER ARISING AND WHETHER CAUSED BY TORT (INCLUDING NEGLIGENCE), BREACH OF CONTRACT OR OTHERWISE. THE MAXIMUM AGGREGATE LIABILITY UNDER THE CONTRACT WHETHER IN TOR (INCLUDING NEGLIGENCE) OR OTHERWISE SHALL IN NO CIRCUMSTANCES EXCEED THE AMOUNT PAYABLE BY YOU TO DENHOLMEGATE HONEY.
9.6. This does not affect your statutory rights as a consumer, nor your right to return the Products as per clause 7.
DATA PROTECTION
10.1. Your transaction records are accessible to you if you are a registered customer by entering your Web Order Number(s) so that you may check the status of your order(s) and check the order content.
10.2. By placing your order, you agreed and understand that Denholme Gate Honey may store, process and use the data collected from your order form for processing your order. These data will be treated in conformance with the Denholme Gate Honey privacy policy.  If you wish to have access to information we hold concerning you, or if you want to make any changes, or if you do not want to receive information from us please contact Denholme Gate Honey directly in writing.
CIRCUMSTANCES BEYOND REASONABLE CONTROL
Denholme Gate Honey will make every effort to perform its obligations under the contract. However, it cannot be held responsible for delays or failure to perform if such delay or failure is caused by any circumstances beyond our reasonable control. In the event of a delay, we will perform our obligations as soon as reasonably possible.
DISAGREEMENTS GOVERNING LAW AND JURISDICTION
Denholme Gate Honey will try to solve any disagreements quickly and efficiently. If you are not happy with the way it deals with any disagreement and you want to take court proceedings, you must do so within the courts of England & Wales. The applicability of the United Nations Convention on Contracts for International Sale of Goods is hereby explicitly excluded.
GENERAL
13.1. Neither Denholme Gate Honey's failure nor your failure to enforce any term of the contract constitutes a waiver of such term. Such failure shall in no way affect the right later to enforce such term.
13.2. The invalidity or unenforceability of any provision of the contract shall not adversely affect the validity or enforceability of the remaining provisions.