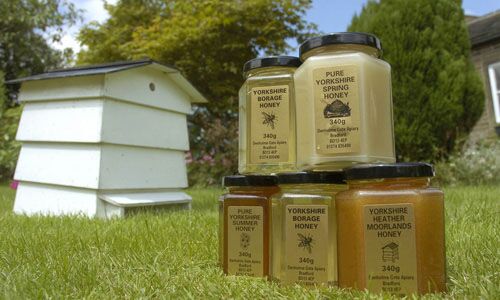 Denholme Gate Honey
At Denholme Gate Honey based in West Yorkshire we (or more accurately our very discerning, hardworking bees) produce the finest quality pure honey from the flowers of the Yorkshire countryside. Consequently all are unique in flavour and appearance.  We are proud to say that our honey is sourced only from the glorious county that is Yorkshire!  We have different types depending on your particular taste in honey.
Our honey is described as 'Pure' as opposed to 'Raw', the meaning being exactly the same.  The honey is extracted, coarse filtered and put into jars ready for you to enjoy! Our honeycomb is cut straight from the hive into a suitable sized portion and packed. That's it, as natural as it gets.
Following the seasons, the bees forage on different types of flowers, tree pollens, and heathers to produce three distinct honey crops.  Spring and Summer Blossom honey, followed by Autumn Heather Moorland honey.
Customers can find out more information about Denholme Gate honey by following the link to our online store or please feel free to contact us using the enquiry form.